Tuesday, November 16, 2010
By: DALISAY
e-mail: I could tell you... But then I have to kill you. LOL! (mura yan. :p)
blogsite: dalisaynapusoatkaluluwa.blogspot.com
Other details: I speak softly but I carry a VERY BIG stick!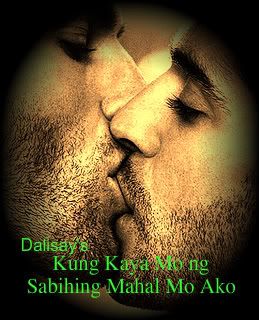 GBOI stretched his arms to reach the man beside him but he was not there. Napaangat ang ulo niya at tiningnan ang parteng hinigaan nito. It's still warm. Naamoy niya pa ang amoy ni Pancho sa bedsheet at sa mga unan. Napangiti siya.

Last night they made love thrice. Pagkatapos ng "bakbakan" nila sa ibaba ng log-house ay umakyat sila sa itaas para ipagpatuloy iyon sa silid nito. He wantonly surrendered to him. Naaalala pa niya kung paano nito pinaligaya ng husto ang pakiramdam niya. Nag-init na naman ang katawan niya sa pag-alalang iyon...

*****

Panco's breath was still rugged. But his eyes speaks volumes of expression he visibly showed him. He was amazed how wonderful and powerful his grips are. Bahagya pang nananakit ang anit niya sa bahagyang pagsabunot nito sa kanya as he cum. Okay lang, although its been a while since he last tried mouth-fucking.

He was big. As big as life itself. He could not believe how he was able to make this big man moan and groan in pleasure. Ngayon nga ay nakatingin pa rin ito sa kanya. Bahagyang nananakit ang puson niya at ang kanyang sariling arousal ay hindi pa rin humuhupa.

Pancho smiled and kissed his forehead. Napakalambing ng gesture na iyon na nakapagpatunaw sa kanyang puso. Niyakap niya ito at sumubsob sa malapad na dibdib nito. It felt heaven. Naramdaman niya ang hininga nito sa batok niya. It was a very silent night. Tanging ang mga paghinga at huni ng mga pang-gabing insekto lamang ang maririnig sa paligid.


Napagkatuwaan niyang laruin ang maninipis na balahibo nito sa dibdib gamit ang dila niya. He heard him groan. He watched his half-aroused maleness in front of him. It was starting to move on its own. Like it was alive and getting ready for battle, again. He chuckled.

Ipinagpatuloy niya ang ginagawa. Naramdaman niya ang pagtaas baba ng dibdib nito. His breathing became uneven. Namangha siya sa bilis ng pangyayari dahil nakatayo na naman ang sandata nito. Like a soldier. Proud and mighty. Nangingintab and pinakadulo non.
He licked his right nipple. He really tasted good.

"You're one naughty boy, Gboi." Pancho murmured from his aching groan.

"You like it."

"Nah... I don't" he teased.

"Your body is not a very good liar Pancho. That includes this little woody of yours." Gboi said while continuing paying his homage to his wonderful pecs and holding his hard-on at the same time.

Marahas ang naging paghinga ni Pancho. Naramdaman niyang ipinagapang nito ang kamay sa likuran niya. Hinila nito ang laylayan ng suot niyang long-sleeves. Natatawang bumangon siya at tinulungan itong hilahin iyon paitaas. Para pa ngang balak nitong sirain iyon.

"Where's the fire?" tudyo niya rito.

Binagalan niya ang pagbukas ng butones ng kanyang damit. As if he's stripping. Sinisigurado niyang napakabagal ng pagkalas niya ng butones mula sa uhales ng kayang suot na damit. Nabigla siya ng marahas na hablutin iyon ni Pancho.

"Sayang!" tukoy niya sa damit bagaman bahagyang natatawa.

"GQ pa naman iyan." tukoy niya sa damit. Nakangiti pa rin.

"Damit lamang iyan sweetie. Samantalang ito, hindi na makakapaghintay pa." nguso nito sa nakabanderang pagkalalaki nito.

Natawa na siya ng tuluyan. He removed his top and slowly unbuckled his slacks. Nang malaglag iyon ng tuluyan ay bahagya siyang nailang. Hindi naman nakaka-insecure ang katawan ni Pancho at wala siyang dapat na ikahiya sa katawan niya. Maganda rin ang porma ng pangangatawan niya at alaga niya iyon sa exercise.

Naaliw siya ng tumabi siya rito. Para silang kapeng-barako at krema. Maputi kasi siya sa karaniwan. Pero mamula-mula ang kutis niya na parang sa bata. Briefs na lang natitira sa kanya.

Pancho started kissing him again. Harder this time. May pag-angkin. May pagmamadali. He grabbed his ass and guided him on top of him. He's almost seated on his steely arousal behind him. That sent shivers inside of his body. Na-e-excite siya sa maaaring maganap. Matagal na rin since the last time he was fucked.

His arms are now on Pncho's neck. Urging him to deepen the kiss more. He wanted him so bad his loins couldn't take it. Masyado ng masakit ang pagkakaharang ng briefs niya sa arousal niya. He felt like exploding anytime. He got the surprise of his life when Pancho easily stand up and carried him while his legs are in his body. Still kissing him, he went for the stairs.

Bilib man siya ng lubos sa lakas nito, ayaw naman niyang magmukha at mag-feeling girl ng husto. He just can't stand the idea. Ano sila? Honeymooners? Bumaba siya sa pagkakakapit dito pero hindi inalis ang pagkakahugpong ng kanilang mga labi. Naka-akyat sila at nakapasok sa kwarto nito ng walang hiwalayan mula sa halikang iyon.

Nakarating sila sa kama at nagulat siya ng bigla siya nitong itumba doon. He stood in front of him. His arms in his waist. Like some demigod trying to conquer him. Hinila niyang pababa ang briefs upang makalaya na mula sa pagtitiis nito ang kanyang pagkalalaki.

Umalpas iyon at parang galit na galit na nakatutok din kay Pancho. Amusement sparkled from his eyes. Napangiti ito at tiningnan ang kanyang kaselanan.

"Laki ah." Tudyo nito.

He grinned. "Mas malaki pa rin ang sa iyo." sagot niya.

Kinubabawan na siya nito at muling hinalikan. Pancho's hands explored the hardness of his body. He felt like he was on a roller coaster ride. He's suddenly squirming and shivering beneath him. His lips traced the contour of his face. Down to his neck. His day old stubbles did wonders to his body. It was rough yet tickled the hell out of him.

Pancho's lips reached his nipples. He bit it. Gboi supressed a moan. He clutched on the sheets of the bed. As if it was his lifeline. Nagpalipat-lipat si Pancho sa magkabilang nipples niya at hindi na niya malaman ang gagawin. He was getting closer and closer to the zenith. His hands traced the muscles on Pancho's back. Inilapat niya iyon hanggang sa ulo nito. He didn't wan him to stop.

Pancho grabbed his buttocks and lifted it. Squeezing both the sensitive cheecks of his ass. He raised his head and kissed him full on the mouth again. He sucked his tongue like there is no life tomorrow. As if breathing from the air he breathes.
Nanghina ng husto ang pakiramdam niya ng dahil doon. Itinigil nito ang paghalik at nagsalita.

"I want to come inside you." his voice pleading.

Hindi niya alam ang isasagot niya. Nakadama siya ng pag-aalinlangan. Can he take him. He's so big. At hindi siya talaga nagpapa-bottom. Bihira ang mga lalaking naka-sex niyang nakapasok na sa kanya. Mabibilang niya iyon sa isang kamay niya. He was rather top all the time.

Naramdaman marahil nito ang pag-aalinlangan niya at muli siyang siniil ng halik. Mas malalim, ngunit banayad na banayad. He almost cried. Parang kukumbulsiyunin na siya. Muli itong nagtaas ng tingin at nagsalita.

"I'll be gentle." buong-suyong sabi nito in a very husky and sexy voice.

Parang wala siyang lakas na tumanggi. Napa-iling siya.

"Relax ka lang. Dadahan-dahanin ko." paglalambing pa nito. Giving him butterfly kisses all over his face. He was consumed by so much desire he almost nodded. Pinanatili niya ang katinuan bagama't mahirap gawin.

"I don't want to be fucked Pancho." sabi niya sa mahinang boses.

"You want it."

"That's not the point." Desperado niyang sagot.

"Am I your first?" tanong nito spreading wet kisses that ignited the fire in his senses all the more.

"No." nanghihinang sagot niya.

"Then why?" tanong nito while continuing what he's doing. Pinapababa nito ang depensa niya. Kahit pa nakataas na sa balikat nito ang hita niya at nakadagan ito sa kanya at nararamdaman niya ang ulo ng pagkalalaki nito sa bukana ng puwit niya ay ipinipilit pa rin niyang ilagay ang katinuan sa ulo niya. Napakahirap mang gawin niyon.

"I don't like it."

"You will. I'll make sure of that." yun lang at siniil siya nito ng halik. Mas mapusok. Mas maalab. Urging him to respond. His tongue explored his lips wonderfully. Hindi siya makahinga sa sarap.

Naramdaman na lamang niya ang malamig na bagay na ipinahid nito sa kanyang puwitan. He stiffened. Sinubukan niyang kumalas ngunit mas malakas ito. Hindi nito pinakawalan ang labi niya at mas dumagan ito sa kanya. Naramdaman niya ang pagpasok ng daliri nito. Hawak nito sa isang kamay ang isang braso niya. Hindi siya makapalag.

Sensation flooded through Gboi like a dam opened for a discharge. Pancho's finger sent thousands of feelings that he couldn't name. Nakakawala ng katinuan ang ginagawa nito sa kanya. Feelings like pleasure-pain rose from his chest. Hanggang sa dinalawa na nito ang daliri sa parteng iyon ng katawan niya. Malalaki ang daliri ni Pancho, bagama't masakit ng kaunti ay lamang ang kakaibang sensasyon na nararamdaman niya.

He released his fingers from his ass and parted his lying hips so that he could accomodate him more. Nagpahid ito ng lotion sa ari nito kahit pa nagtataka siya kung paano nito naabot iyon mula sa side table.

"I won't use condom on you Gboi. I'm clean. Are you?" tanong nito.

He nodded. He couldn't breath a word. In fact, he couldn't breath in anicipation of what's going to happen.

His manhood seeked entrance slowly. He felt the cold tip of his maleness penetrating. He couldn't relax. Napakalaki naman kasi nito. Pancho might have felt his stiffness that he kissed him senseless. He was lost in that kiss that he didn't felt hi steely maleness had already entered its huge head. He shouted in pain! And in pleasure.

Pancho stayed still. Trying to make him relax from his invasion. He felt that excruciating pain whe he stopped kissing him. He tried to get him off his top.

"No way sweetheart. You can stop the bullet train but not me." He said gritting his teeth. He watched his face. It looked like he was also aching. Like he was i pain.

"Don't push too hard Pancho." kabado niyang wika rito.

"I'm trying sweetie." sagot nito and in one swift move, he withdrew a little and then thrust-ed his shaft like a knife in his ass.

Napasinghap si Gboi sa sakit at sarap na naramdaman. In an instant, nasa loob na niya ang kabuuan ni Pancho. It felt surreal. Hindi niya maipaliwanag ang nararamdaman. Parang may malaking bahagi niya ang nasira at nabuong muli. Nanatili ito ng ilang sandali sa ganoong pwesto at sinimulang umindayog ng dahan-dahan.

Every thrust he does made Gboi whimper in delight. It was like reaching another dimension. The discomfort he felt vanished in the thin air minutes ago and was replaced by a very peculiar feeling. He felt like they were dancing in a very primitive beat that was invented eons ago. He showered him with kisses while humping very slowly.

His lovemaking is superb. There was tenderness in it. His other legs clammed-up automatically to his waist. Giving him full access inside of him. Their breathing uneven. Rugged. Their sweaty all over. He felt that he would shoot up anytime.

"I-i'm coming!" utal niyang sagot.

He was now humping very hard. Parang tren sa bilis at sinasalubong niya ang bawat ulos nito ng bahagyang pag-angat ng balakang. Ang matigas na tiyan nito na dumadagan sa kanyang pag-aari ang nagbigay ng dahilan para lalong mag-umigting ang kanyang pagnanasa.

"Me t-too." sagot nito. Tinitigan niya ito. Pawis na pawis na rin ang mukha nito at bahagyang nangangalit ang mga ugat sa ulo nito. He grabbed his solid sholders and in his final thrust he claimed his lips.

"Take me, sweetie. Take all of that." he mumurmed to his mouth and collapsed on his top. He felt hot liquid spurting deep inside him. He let go of his hold to his orgasm and joined his climax. Sumirit ang mga iyon sa pagitan ng mga katawan nila. Mainit. At napakasarap.

*****

Naputol ang pagmumuni-muni niya ng bumukas ang pintuan ng kwarto nito at iniluwa noon ang laman ng isipan niya kani-kanina lang. Napakagwapo nito sa suot nitong board shorts at dalcasual na t-shirt. Nakapaa lang ito at napakalinis ng mga kuko nito sa daliri. Maya itong tray ng pagkain.

"Breakfast in bed, sweetie." nakangiti nitong sabi sa kanya. He was looking at him intently at hindi niya mapigilang magning-ning ang mga mata. May iniabot ito sa kanya.

"Tissue. Kunin mo." sabi nito sa nakakalokong ngiti.

Nagtataka man ay kinuha niya. "Para saan ito?" takang tanong niya. Di pa naman siya kumakain at wala siyang panis na laway. Nagtatakang tiningnan niya ito.

"You're drooling." sagot nito sabay tawa.

Naramdaman niya ang pamumula ng mukha sabay tapon dito ng tissue. Bumangon siya mula sa pagkakahiga at nalaglag ang kumot sa hubad niyang katawan. His member is standing in a forward salute.

Napadako ang tingin doon ni Pancho at agad siyang tinukso nito tungkol doon.

"Uy mukhang merong may gusto ng Round four." nanunuksong wika nito. Hinampas niya ito ng nadampot na unan. Umiwas ito at inilapag ang tray sa side table saka siya mabilis na dinaluhong at binuhat ng walang kahirap-hirap saka siya dinala sa pabalik sa kama.

Nagtatawanang bumagsak sila doon. Nagtama ang paningin nila at muling nag-alab ang pakiramdam ni Gboi. His maleness is throbbing in Pancho's chest. He hooked his arms to his neck and kissed him full on the mouth.

The breakfast was now ignored and they made love again in his bed for the fourth time around.

*****

Napakaganda ng tanawin sa resort na iyon. Halos maghahapon na ng makarating sila doon dahil na rin sa kagagawan nila ni Pancho. He was insatiable last night at kanina. As if he wanted him all the more. He can't get enough of his lovemakings. They tried it almost everywhere. Sa divan, sa lapag, sa shower at sa hagdanan. Tawanan sila ng tawanan pagkatapos.

Every round of hot lovemaking with him is very special for Gboi. He finally admitted it. He's officially in love with Pancho. Something that frightened and excited him all at the same time. It was very sudden. But it was great. He evoked feeling that were stranger to him. He always wanted him near. Not to be out of his sight.

Sa isang banda ay nalulungkot siya dahil he couldn't express his love for him publicly. Hindi pa siya handa. At isa iyong malaking kabaliwan. Pumasok rin sa isip niya kung ano ang damdamin para sa kanya ni Pancho. Did he loved him too? Siya na rin ang sumagot sa tanong niyang iyon. Imposible iyon. Maaring attracted lamang ito sa kanya physically. Curious. Sa madaling salita.

Tinanaw niya ito habang pabalik sa cottage na nirentahan nila. It was an exclusive beach resort na per membership lamang ang accomodation. Bagama't kalagitnaan halos ng taon ay marami-raming tao sa resort. Hindi niya maaring ipagsapalaran ang pakikipaglandian doon kay Pancho.

"I checked out their facilities here sweetie, Ang galing. May mga jet-ski sila at speedboats. Think I can handle both water-crafts?" parang batang tanong nito sa kanya.

Ibinaba niya ang hawak na libro kanina sa lamesita at sinagot ito.

"Oo naman. Isa pa, pareho lang naman ang principle ng driving. I'm sure you'll get the hang of it fast."

"Iyan ang gusto ko sa iyo eh." sabay lapit nito at itinayo siya.

Ikinawit niya ang braso sa batok nito. "What do you like about me, sweet?" balik-tanong niya rito.

Instead of answring, he gave him a very wet kiss he was instantly aroused. Nakangiti itong nagsalita.

"Madali kang mag-init sa akin. Iyon ang gusto ko sa'yo." pang-aasar nito

Tinampal niya ang dibdib nito ng may kalakasan. Umuklo ito ng bahagya at umarteng nasaktan.

"S-sorry. Masakit ba?" nag-aalalang tanong niya at dinaluhan ito. Sa gulat niya ay bigla siya nitong dinaganan at pinuwersa pahiga. Napagibik siya sa gulat.

"Gotcha!" nakangisi nitong sabi sa kanya. Hinalikan siyang muli nito. Lalalim pa sana ang halikang iyon ng may kumatok sa pintuan nila.

"Room service." sabi sa labas.

Nagmamadaling tumayo sila at inayos ang sarili. Nagtatawanang nagkatinginan sila.
Nilapitan nito ang pinto at binuksan iyon. Iyon na pala ang inorder nilang pagkain. Siya ang may ideya noon dahil ayaw niyang pagtinginan sila sa labas. Ugali pa naman ni Pancho na mang-nakaw ng halik kapag may pagkakataon ito.

Katulad kanina bago sila pumunta at nasa sasakyan pa sila ay bigla itong nag-swerve sa pagda-drive at hinalikan siya sa gulat niya. Buti na lang at walang tao sa kalsada at wala silang kasalubong o kasunod at tinted ang salamin ng sasakyan niya.

Inubos nila ang pagkain. Gutom pala siya sa gulat niya. Nagkayayaan silang lumabas at maglakad-lakad. Alas-singko na iyon ng hapon. Puti ang buhangin sa parteng iyon ng Batangas. Maganda ang tanawin although medyo makulimlim ang langit. Nalalasahan niya ang alat ng hangin sa dila niya.

Inakbayan siya ni Pancho sa pangigilalas niya. Binaklas niya ang braso nito at pinakawalan ang sarili mula rito. nagtagumpay siya. Lumingon muna siya sa paligid bago nagsalita.

"Not here Panco. Not in public." he hissed.

Nangunot ang noo nito at hindi na nagsalita. Tumango lang at bahagyang binagalan ang lakad. Bigla itong nanahimik mula sa pagiging jolly mood nito kanina. Hindi siya nakatiis.

"Are you mad?"

"No I'm not."

"Then why so serious?" tanong niya. Ginaya pa niya si Heath Ledger sa Batman.

"I'm fine." maiksi pa ring tugon nito.

"No you're not."

"I'm okay Gboi. Don't fuzz okay."

"Then talk to me!" he demanded. "Dinala mo ako rito tapos di mo ako kikibuin. Eh sira-ulo ka pala eh." naiinis na wika niya.

"Bakit ka ba nagkaka-ganyan?" ganting-tanong nito. "Masama bang tumahimik sandali?" galit na rin ito.

"Oo. Lalo na kung nagmumukha akong tanga rito." naiinis pa ring sabi niya. How dare him make him feel helpless kapag hindi ito kumikibo?

"Ah, ayaw mong magmukhang tanga pero ako okay lang na maging ganoon?"

Nangunot ang noo niya sa tanong nito. Napapantastikuhan talaga siya sa ungas na ito. Ungas, pero mahal mo. Piping bulong ng isip niya.

"When did I make you look like one?"

"Kanina."

"Anong kanina?"

"Nung alisin mo yung kamay ko sa pagkaka-akbay sa iyo. Para tuloy akong may sakit na ewan, eh, gusto ko lang naman na kaakbay ka." nagtatampong sabi nito.

"You're impossible." naiiling na wika niya. "Alam mo ang sitwasyon ko di ba?" tanong pa niya.

"I know. I just can't help it." sagot nito. "Imagine, hindi ko maipakita sa iba na kasama ko ang taong nagpapasaya sa akin. Na nasa mga bisig ko siya at maligaya rin siya sa piling ko." madamdaming wika nito.

He was stunned. Did he actually confessed his feelings for him? Did he love him too?

"W-what do you mean?" he asked, stammering. "Do you love me?" umahon ang pag-asa sa dibdib niya.

"I don't know." tugon nito na ikinabagsak ng balikat niya. Unti-unting nag-init ang sulok ng mata niya. God? Would he cry? Napatingala siya.

"But, all I know is that. I really like to be with you. I enjoy every minute with you. Parang kulang ang isang araw sa akin kapag kasama kita. So please, don't leave me Sweetie." puno ng emosyon na sabi nito.

Sumikip ang dibdib niya sa narinig. Maybe this man really loved him. Hindi pa lang nito nare-realize iyon. Pero pwede ba iyon? Hindi ba at straight ito? Naipasya niya na isatinig ang gumugulo sa isip.

"I thought you were straight. How come you like me?" maigting na tanong niya rito.

Nagkaroon ng pag-aalinlangan sa mata nito pero sandali lang. He sighed then he answered.

"I really don't know what to believe Gboi. Confused na confused ako. Kung bading na rin ako, hindi ko alam. I couldn't really name it, but I'm starting to like you very much. Besides, what is there not to like. You're sweet. You're smart. You're fun to be with. And most of all, I get a hard-on everytime you're near." mukhang desperadong bulalas nito.

Nagugulat siya sa naririnig niya but he felt very happy. He held his hand and guided him sa isang hallway na nakita niyang walang-tao. Pagdating doon ay niyakap niya ito and kissed him deeply. He responded eagerly.

Matapos ang halikan ay naglagay siya ng maliit na distansiya sa pagitan nila. He swallowed a lump in his throat. Nananakit ang lalamunan niya sa pagpigil ng iyak kanina pa.

He touched his face. He smelled it. He shivered from the gesture.

"Maybe you don't love me yet Pancho, but I do. Alam kong masyadong mabilis but I really do. Willing akong maghintay. I'll keep a list of what you feel for me. Kung sakaling sa pagdaan ng mga panahon ay madagdagan iyon at marealize mo na pwedeng magkaroon ng tayo. I'll start from you, having a hard-on everytime I'm near you. Mag-isip ka pa. I'll just wait. Huwag ka lang masyadong magtatagal sa pag-iisip at kokotongan kita." pagtatapos niya sa madamdaming pahayag na iyon.

"How about Katrina?" pancho asked then held his hands and kissed it.

"I think I'll give her to Elric. Besides, alam ko naman na gustong mangyari iyon ni Elric. I don't care about anything anymore Pancho. Ikaw lang. You are all that matters to me now. Tama ka, may kapupuntahan ang damdamin nating ito." sabay halik niya rito.

Hindi na niya napansin ang ngiti ng tagumpay na namutawi sa labi ni Pancho. A triumphant glint of happiness also crossed his eyes. Lumabas na sila doon sa bahaging iyon at bumalik sa buhanginan. May mga nakatambay na mangilan-ngilan doon at may umiinom naman sa bar na nasa loob ng resort.

They decided to go there to cherish and reminisce about what just happened. Elated ang pakiramdam ni Gboi habang naglalakad kaya hindi niya napansin ang lalaking makakasalubong. Matutumba sana siya sa buhanginan kung hindi siya maagap na nadaluhan ni Pancho. His heart skipped one beat ng dahil doon.

"I'm sorry, sir... Hindi ko sinasadya. Are you alright... Gboi?" dire-diretsong wika nito.

Nagbaling ng tingin si Gboi rito at napamaang ng ilang sandali sa nakabungguan. Naka-awang ang labi niya ng bahagya. naputol ang pananahimik niya sa muling tanong nito.

"Gboi Arpon? How are you?"

He recognized this man. Hinahagilap lamang niya ang pangalan nito sa memorya niya at nagtagumpay naman siya.

Naitayo na siya ni Pancho ng makapagsalita siyang muli.

"J-jim Sta. Isabel?" kunot-noong tanong niya.

"Whew! I'm glad you remembered" eksaherado pang huminga ito.

"Why wouldn't I?" nakangiti niyang tugon dito.

They shaked-hands. His grip was still firm. Just like in the old days. He remembered hot flashes.

"What are you doing here?" tanong niya.

"Well, I owned the place." nakangiti nitong sabi. And Gboi was dumbfounded. Great!

Itutuloy....